Manufacturing Data Collection (MDC) and Monitoring
CIMCO MDC-Max is the complete MDC solution that enables automatic collection of manufacturing data from machines and personnel in real-time. MDC-Max provides accurate data for identifying causes of production loss, potential areas of improvement and enables real-time monitoring of your shop floor for continuous improvement.
Generate reports and charts with automatic calculation of OEE, cycle time, idle time, setup time, downtime and more. MDC-Max features real-time machine monitoring with Live Screens and has a fully customizable Operator interface for entering downtime reasons directly at the machine.
MDC-Max can benefit the one man operation with a few machines and the corporate enterprise with multiple factories. The MDC-Max software is highly flexible and easily customized to fit your current and future data collection needs. Since MDC-Max is a networked solution that stores data on a central server you can monitor production from multiple locations and access the data from anywhere.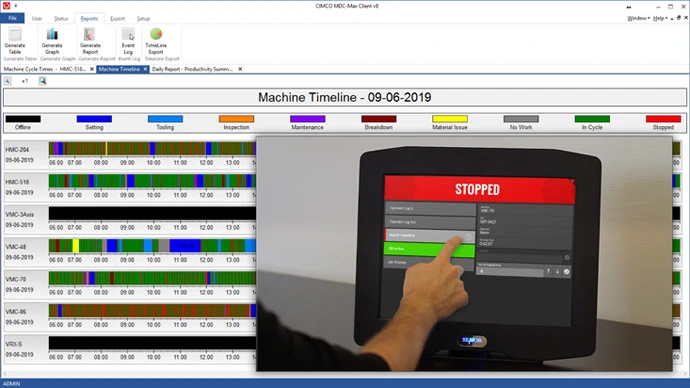 Improved efficiency
Understand the performance of equipment and personnel with accurate real-time data collection. Identify causes of production loss and potential areas of improvement for better utilization of resources and data-driven process adjustments.

Accurate data collection
Eliminate manual, time consuming and often inaccurate data collection by automating and streamlining the data collection process.

Real-time monitoring
Monitor and visualize the performance of equipment and personnel to improve response times, identify potential errors early, and improve overall company communication. Improve operator engagement through data-driven awareness.

Real-time and historic reports
Eliminate guesswork. Understand the inner workings of your production with customized real-time and historic reports including machine downtime, OEE and other essential KPIs.

Reduce administration time
Reduce paper reliance and administrative time. Update your ERP, MES or other administrative system directly with real-time data as it is received from equipment and personnel.

Access your data anywhere
Access data from one or more sites directly from your mobile device. Easily check the status of equipment or any other information critical to your operation.
AUTOMATIC / MANUAL DATA COLLECTION
Accurate data from machines is collected automatically and unattended by MDC-Max. Most installations will, as a minimum, collect data on Cycle Start, Cycle Stop, and Part Complete. The number of data collection events can be expanded as required and is only limited by the monitoring capabilities of each specific machine.
For manual data collection, MDC-Max provides a streamlined interface for mobile and PC where operators can view essential information and enter data manually. Operators can easily register the exact reasons for machine downtime such as Waiting for Setup, Waiting for Maintenance, Scrapped Part, Inspection and more. MDC-Max also comes with full support for barcode readers.
MDC-Max can be configured to collect data on any event limited only by machine capabilities.
REAL-TIME MONITORING / DIGITAL SIGNAGE
MDC-Max comes with support for controlling Tower Stack lights, Beacons, sound alarms and other types of signaling units that are used for visual and audible feedback of machine state. Incomming machine and operator events can be configured to activate colors on a stack light or trigger a sound alarm. A group of machines can even share a signaling unit such as a stack light.
MDC-Max can dispatch text and email notifications to key personnel on any event from both machines and operators. If a machine falls behind or a machine stops while running unattended, such as at night as part of Lights-out Manufacturing initiatives, MDC-Max can automatically notify the right person to take immediate action.
DOWNTIME TRACKING / OPERATOR FEEDBACK
SECURITY / USER MANAGEMENT
The secure and robust user/group management system in MDC-Max enables fine-grained control over user access and permissions. The MDC-Max clients, database configuration and Operator Screen cannot be accessed without appropriate permissions.
MDC-Max stores detailed logs of all incomming and outgoing events including error logs, operator logs and machine logs. Logs can be stored permanently or rotated (restarted) on a daily, weekly or monthly basis. Logs can also be exported to an external database (which other systems might have access to) or directly to an Excel spreadsheet.
NETWORK SUPPORT / MACHINE CONNECTIONS
MDC-Max can be integrated with your existing network and supports a variety of hardware options including serial wiring, Ethernet and wireless networking. MDC-Max collects data from equipment on your network either directly (if a data collection interfaces is available) or indirectly using additional hardware to establish the connection. The data collection method depends on the specific type of equipment and its monitoring capabilities.
MDC-Max comes with specialized messaging protocols for communicating directly with a wide variety of network based machines/interfaces including Fanuc FOCAS, Haas M-Net, MTConnect, Heidenhain, Netlink, Brother, OPC, Modbus and more.
MDC-Max can be configured to extract messages from incoming DPRNT commands, sent from a machine's serial communications port.
INTEGRATION WITH EXTERNAL SYSTEMS / ERP / MES
MDC-Max can be configured to automaticaly read/write/update data in multiple data sources including external databases, communication with Web Services and XML file export. When and how data is exchanged can be associated with specific events and user-defined conditions. This allows for integration with external systems such as a company's ERP and MES systems.
If required, external systems can access (read/write/update) date in the MDC-Max database directly using the ODBC protocol.
For custom integration with external systems and automation of processes, CIMCO provides a C++ library called OEM Link (.dll) which can be customized by the customer. The OEM Link is controlled by the MDC-Max Server and can be programmed to "catch" events from operators and machines as they are received by MDC-Max. This enables the customer to run custom code whenever specific events occur such as calling a Web Service, exporting data to a specific file format or communicate with external APIs.